Resurrection Parish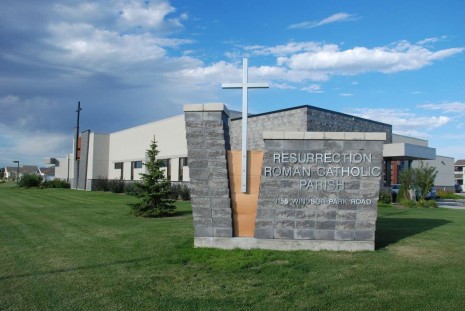 Welcome To Resurrection Roman Catholic Parish
We are a large Roman Catholic parish in the southeast corner of Regina (Windsor Park), the newest parish in the city. Located at:
3155 Windsor Park Road, Regina, SK S4V 3B1

We exist to fulfill the Great Commission of Christ - to go forth and make disciples, love God and love others.
Resurrection Parish celebrates Sunday and weekday Masses and other liturgies, provides faith formation and Sacrament preparation and offers fellowship, outreach and evangelization opportunities.
Our parishioners and staff embrace our core values:
WELCOMING, INVITING, CLEAR and COMMITTED
As a parish, there are four habits we want to instill in our members:
PRAY always,
SERVE in a parish ministry or missionary outreach,
GIVE generously, and
INVITE friends and family to join your journey
Weekend Mass Ministry
A copy of the schedule can be found here as well as on the Liturgy & Worship page.
Thank you to all who continue to serve in a ministry at our weekend Masses!!
Our sign-up and re-commitment to serving at the weekend Mass is now taking place until April 30th (for the schedule running from June through November this year). Please check your email if you are a currently involved in ministry. If you are interested in signing up as a new ministry volunteer please visit www.rotundasoftware.com/ministry/resurrectionministry ​and click on the Sign Up Now link.
For anyone who would like to know more before making a commitment, join us after each Mass on April 29th and 30th for an information session on serving at Mass. For some information on each ministry, please visit the Liturgy and Worship section of the website under the Ministries & Groups tab above. You can also contact the parish office or stop at the Welcome and Information Desk after any weekend Mass.