Resurrection Parish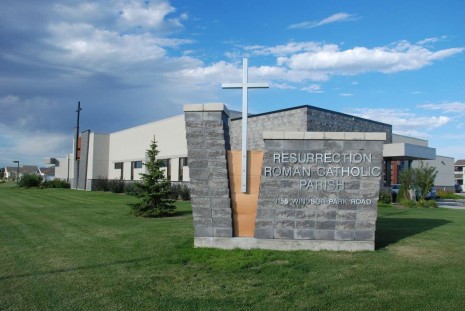 Welcome To Resurrection Roman Catholic Parish
We are a large Roman Catholic parish in the southeast corner of Regina (Windsor Park), the newest parish in the city.

We exist to fulfill the Great Commission of Christ - to go forth and make disciples by loving God and loving others.
Resurrection Parish celebrates Sunday and weekday Masses and other liturgies, provides faith formation and Sacrament preparation and offers fellowship, outreach and evangelization opportunities.
Our parishioners and staff embrace our core values:
WELCOMING, INVITING, CLEAR and COMMITTED
As a parish, there are four habits we want to instill in our members:
PRAY always;
SERVE in a parish ministry or missionary outreach;
GIVE generously, and
INVITE friends and family to join your journey
INVEST in the relationships you have with family and friends and INVITE them to encounter Christ and His Mission by joining you at a faith study, liturgy or Mass.
Weekend Ministry Training
Remember that all ministry volunteers must be trained. At minimum, you need to please connect with your trainer. If you do not have contact information for your trainer, please contact the office.
A copy of the schedule can be found on the Liturgy & Worship page. Training on how to use the online scheduling program will also be available throughout the afternoon this Sunday.
Thank you to all who have offered to serve in a ministry at our weekend Masses over the next 6 months. For anyone who has not had the chance to offer their time to a ministry at weekend Mass, it's not too late! Due to the "live" nature of our new scheduling system, we are able to accept new volunteers all year long. Please contact the office or stop at the Welcome and Information Desk in the gathering space. Leave your name, Mass time preference and choice of ministry and you'll be contacted by the trainer for that ministry. For details on each ministry, please visit the Liturgy and Worship section of the website under the Ministries & Groups tab above.
Of special note - we are still seeking volunteers interested in PowerPoint, Sound and Mass Coordinator ministries!