History
September 30, 2000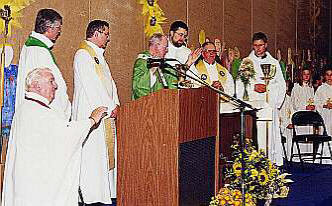 Resurrection held its first Mass in a crowded St. Gabriel School gym on September 30th , 2000. Archbishop Peter Mallon presided over the service, whose celebrants included the leaders of the inaugural parish team. For five years St. Gabriel School was our home - the site of celebrations, baptisms, and social evenings for the church. Parishioners are grateful to Regina Catholic Schools and the staff of St. Gabriel for their cooperation and generosity in offering the use of their facility. During this time plans were being made and money raised for a new hall.
Construction
Our New Hall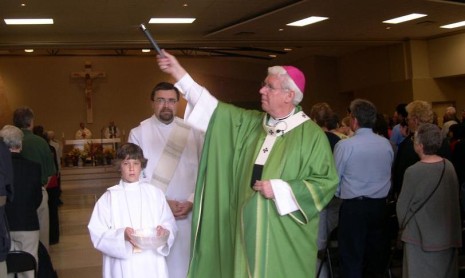 After five years of hard work, it was finally ready. On Sept. 25, 2005, Most Reverend Daniel Bohan, Archbishop of Regina, officially blessed the new home of Resurrection Parish (above, right) during Sunday morning Mass. Co-presiders included our previous Archbishop Peter Mallon and Deacon Joe Lang (in photo, centre).
Our New Church
Following a rapid payoff of the mortgage on Phase I, our dream of building our formal church began. A building committee was formed. On Tuesday May 29, 2012 Archbishop Daniel Bohan along with Father Stephen Bill, our parish pastor, and our deacon, Reverend Mr. Joe Lang blessed the ground where the new church was to be added on. In June of 2012, approval was received from the City of Regina for our land use permit and we became a step closer to proceeding with the building of our church. The committee had been meeting with representatives from the Archdiocese of Regina as well as our architects, engineers and construction manager to get the project underway. On Monday June 4, 2012 a sod breaking ceremony took place followed by a parish barbeque.
Our dreams became a reality when on Thursday July 25, 2013 our first Mass in the new church was celebrated. Also on this occasion, we also bid farewell and good luck to our long time pastoral assistant, Michael Perras.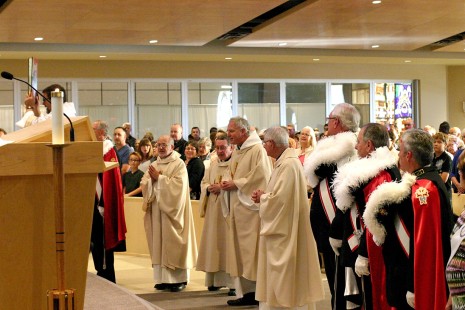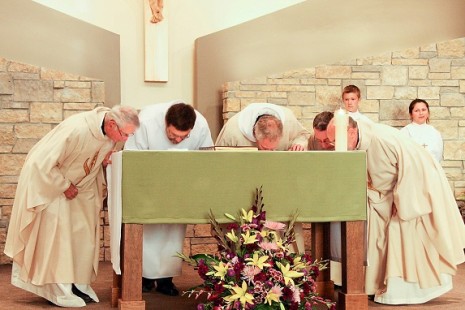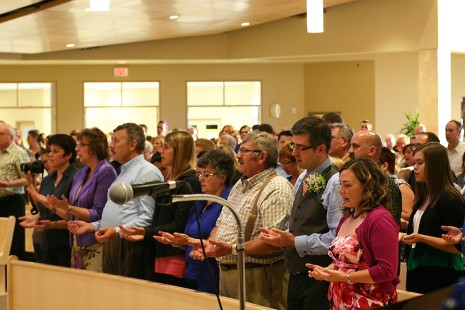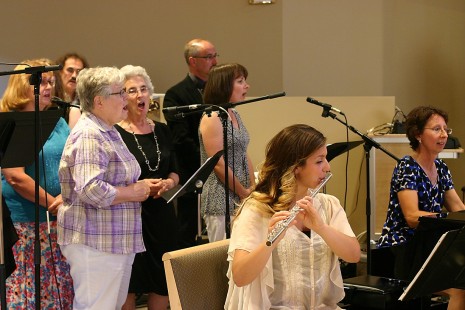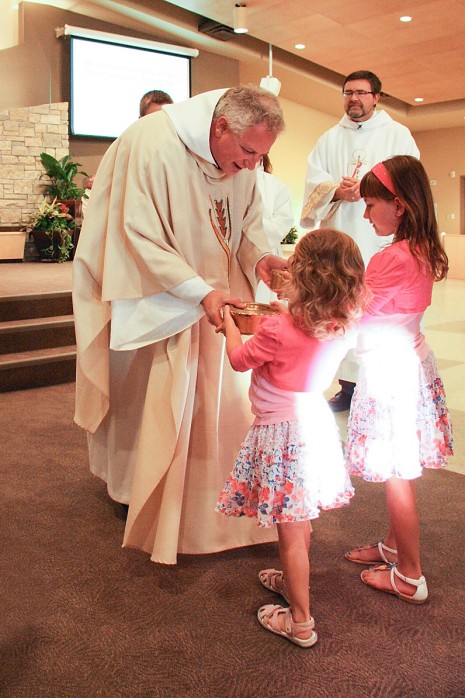 The Official Mass of Dedication was held on Saturday August 31, 2013. Archbishop Daniel Bohan officially blessed our new church with our Parish Pastor, Father Stephen Bill, our Deacon, Reverend Mr. Joe Lang, and several visiting priests in attendance.
We are so very thankful to the countless people who made this dream a reality, through their time, talent and treasure. We are most thankful to our God who has blessed us with this lovely church and all the amazing members of our parish family who continue to make worshiping our Lord a joyful celebration.