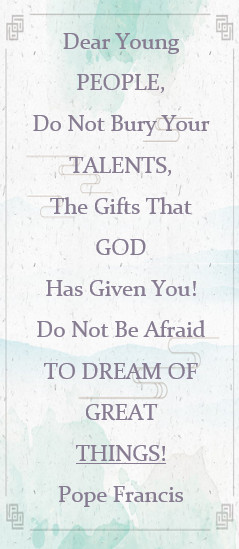 This year we have a variety of activities that children of all ages can get involved in for example:
-This year we are running Challenge (Jr&Sr) out of resurrection parish. The program is for all youth K-1st year university! These programs work on not only faith development but also personal and leadership development.
-E3 Evenings online for Grade 8
-Source/foundation Grade 8
-Nativity Pageant k-8
- Good Friday, mime k-8
-Walk Wednesday's k-8
-Kids Alive K-5
- Family activities
-Youth Adoration k-8
-The Depths retreat Grade 8
-United conference Grade 8
-Conquest
-Tea Tuesday k-30 years old
-Gloria Patri YA
-Youth ministry workshops YA
-Mini world youth day YA
-Pilgrimage YA
-As well as many more options for high school and university students!
-And more to come!!!
For updates join our Facebook or Instagram family:
Youth Ministry
Welcome to Youth Ministry at Resurrection Parish!
We are a dynamic ministry for youth, young adults and their families. We want to support the total development of the young people in our parish by encouraging healthy relationships, positive habits, and, most importantly, a love of God.
Serving youth in the parish and neighboring Catholic schools, we offer diverse programs to help all youth and young adults take the next step in their faith journey. See the list below to find the right program for you!
Please look at your grade category to find out what youth events are currently available to you!
Youth Ministry Coordinator- vacant